Facilities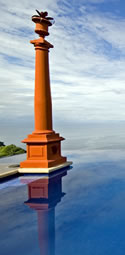 Pool: Submerge yourself in the sea by diving into our blue water "infinity" pool, which creates the illusion of being part of the ocean. To make it even more impressive, it can be seen in a small waterfall, an island with tropical plants and natural flooring made from rocks. We offer bar service at the pool. Our service at the pool is from 7:00 am until 7:00 p.m. Our waiters will be in this area for lunch.
Boutique & Tours: In the main building we have a boutique and concierge office; we offer a select range of in case you missed some personal items, do not worry, you will find it at Villa Caletas boutique. The Concierge staff will help you organize any activity or tour you wish to do. There are many attractions in the area; you can choose from a hike in a national park, to a horseback riding or an adventure in a canopy tour. Contact our Concierge at: concierge@villacaletas.com
Yoga and Fitness: Yoga Experience, tone up your body, strengthen your mind and release your soul. Nourish your body with aerobics in the pool, take a class in kickboxing class at the beach or just relax receiving a reflexology massage. If you wish a stronger exercise, feel free to visit our gym where you will find a elliptical bike, weights, a flat press, a leaning press, multi gym, and a spinning bike. Find information about therapies and massages offered by the hotel.
Beach: Less than two miles from the hotel, our guests can enjoy Caletas beach. Complimentary transportation is available every hour to take you to the beach or back to the hotel from 9:00 am to 3:30 pm, besides noon. The beach has sun beds, showers, restrooms and a snack bar to buy a cool drink and enjoy the sun.
Spa Services: Refresh your mind, body and spirit, take your time to relax and enjoy our Spa treatments, let your body and soul are immersed in a world filled with peace and nature… close to heaven.